Simple Green Soup- Courgette & Spinach. This Simple Courgette Soup was one of the few things my granny could manage to feed me when I was a kid. I was a really finicky eater. She and my mom tend to make mono-veg soups - just one particular vegetable for the flavor, then onions for a bit of substance, a cube of vegetable stock, and.
Simple Green Soup- Courgette & Spinach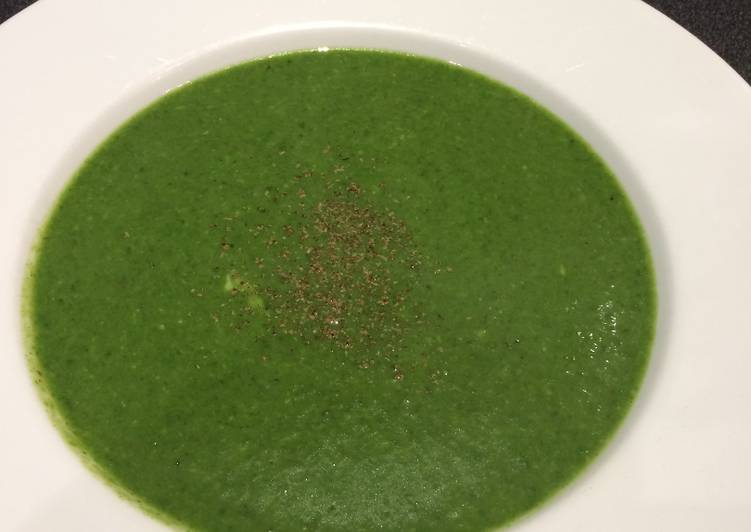 Whip up a fresh bowl of courgette soup for a simple, summery meal. This Simple Courgette Soup freezes well and is yummy with oaty/seedy bread!! As the name suggests, it is easy and quick to make. You can cook Simple Green Soup- Courgette & Spinach using 8 ingredients and 6 steps. Here is how you achieve it.
Ingredients of Simple Green Soup- Courgette & Spinach
You need 4 of Courgettes.
Prepare 200 g of Spinach washed and dranied.
It's 3 cloves of garlic.
You need 400 ml of Stock (Vegetable or Chicken).
You need 100 g of Parmesan Cheese.
Prepare 2 of Table Spoons of Olive Oil.
You need 1 Knob of butter.
Prepare to taste of Salt & pepper.
This Courgette Soup is a great way to use up a lot of courgettes if you have them growing in your garden. It doesn't get much lighter than a courgette soup and the chives gives it a stronger onion flavour Add a little extra vibrant green colour and a nutrient boost by cooking some peas with it and. Courgettes make a decent meal of any storecupboard ingredient. They can be dressed up in a creamy lemon sauce and served with pasta, grated and We have hundreds of courgette recipes to make use of this endlessly versatile vegetable.
Simple Green Soup- Courgette & Spinach step by step
Wash courgettes and dry. Slice into rounds about 5mm thick..
Warm olive oil and butter in a medium heated frying pan and add batches of sliced courgette to lightly brown on one side. Place browned courgettes into large saucepan with the stock and have on very low heat while you continue to brown the rest of the sliced courgettes..
Add the garlic, chopped finely, to the last batch of courgettes you are browning, (on one side only) and cook together to soften the garlic. Add to the saucepan with the rest of the courgettes and stock..
Add all the washed spinach to the saucepan, over the courgettes and heat with the lid on until just wilted. Transfer the whole lot to a blender and whizz until smooth - a few bursts should do it. Return all to the saucepan and place over a gentle heat..
Grate the Parmesan Cheese and add it to the blended soup. Stir in evenly over a gentle heat only..
Add salt and pepper to taste. Serve with crunchy bread and cheeses..
Courgettes make a decent meal of any storecupboard ingredient. This soup is exactly what it claims to be: a super simple, very green soup. It's not fussy, it's not fancy, and it's not hard to make. It began as a means of using up kale, spinach, and other green odds and ends, and it's become a kind of comfort food, a recipe that I appreciate anew each time I prepare it. The king of all green soups!