Turkey Burgers with Balsamic-Fig Preserves and Roasted Parmesan Zucchini Sticks. To assemble, spread a small amount of. Roasted zucchini with parmesan—which takes all of ten minutes, start to finish—is going to save you from just giving up and composting (or tossing) all that squash-y goodness. Thanks to a healthy sprinkling of parmesan, it's one of those unicorn veggie recipes that's sure to be a crowd-pleaser.
Turkey Burgers with Balsamic-Fig Preserves and Roasted Parmesan Zucchini Sticks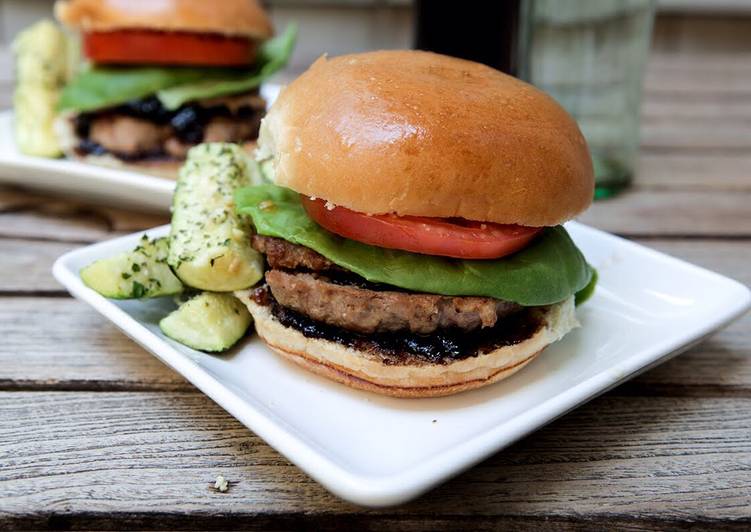 I simply coated the top of each piece one by one (you can use. I honestly can't think of a better way to get your kids to eat their veggies. On this episode of GET TOASTED Eric Ripert shows us how to, with just a toaster oven, create Parmesan Zucchini with Balsomic. You can have Turkey Burgers with Balsamic-Fig Preserves and Roasted Parmesan Zucchini Sticks using 18 ingredients and 5 steps. Here is how you cook that.
Ingredients of Turkey Burgers with Balsamic-Fig Preserves and Roasted Parmesan Zucchini Sticks
You need of Parmesan Zucchini Sticks.
You need 16 oz of fresh zucchini.
It's 10 of fresh flat leaf parsley, finely chopped.
Prepare 8 of fresh oregano leaves, finely chopped.
Prepare 2 tbsp of olive oil.
You need 1 of Kosher salt, to taste.
It's 1 of Black pepper, to taste.
Prepare 1/2 cup of Parmesan cheese, flakes.
Prepare of Turkey Burgers.
You need 16 oz of ground turkey.
Prepare 1 tsp of Magic Unicorn Sea Salt, Beautiful Briny Sea Salt.
It's 2 of garlic cloves, minced.
It's 1 of sprig fresh thyme, leaves picked and finely chopped.
You need 1 tbsp of vegetable oil.
Prepare 2 tbsp of One Screw Loose Balsamic-Fig preserves.
It's 2 each of buns.
You need 4 of lettuce leaves, torn to fit buns.
You need 1 each of tomato, sliced.
Summer is here in New York and the heat has been very intense recently. But the good thing summer brings to the city is plenty of fresh seasonal vegetables, including. - The maiden voyage: Roasted parmesan zucchini with balsamic vinegar! - I bought a toaster oven last week, but it's oooooh so much more than that. The first thing I made in my new baby? Ripert's Parmesan Roasted Zucchini with Balsamic Vinegar.
Turkey Burgers with Balsamic-Fig Preserves and Roasted Parmesan Zucchini Sticks step by step
Preheat the oven to 350o F. While the oven is preheating, wash and trim the tips of the zucchini. Then cut each zucchini in half lengthwise, and cut each of those pieces into halves. Next, chop the parsley and oregano..
Prepare a baking sheet (with a baking rack if you have one) by rubbing a small amount of the oil over it. In a medium bowl, toss the zucchini with the remaining olive oil, and season generously with salt and pepper. Arrange, spaced evenly, on the baking sheet or rack, skin side down. Sprinkle the tops of each piece with the herbs and cheese. Bake until tender, about 15 minutes. You can also broil for an additional 2-3 minutes so the tops are a crisp golden brown..
While the zucchini is baking, prepare the turkey burgers. In a medium bowl, combine the ground turkey, garlic, thyme and Magic Unicorn sea salt. Mix together gently, but thoroughly. Your hands are the best tools for this, but a mixing spoon or stiff spatula will also work. Divide the mixture in half, then halve again so there are four equally sized portions. Flatten the burgers into discs that are 4-5 inches wide, and slightly thicker around the edges..
Heat a large sauté pan, or a griddle, to medium-high heat. Add the oil. If the pan is heated well, the oil should be shimmery and wisping slight traces of smoke. Add the burgers to the pan by placing the bottom edge in the oil, and allowing the top edge to fall away from you. Cook for 3-4 minutes, or until golden brown on the first side, and a bit of liquid has started to bubble through the top of the patties. Flip, and cook for 1-2 additional minutes, or until the second side is also golden-brown..
Pull the zucchini out of the oven, and plate alongside the turkey burgers. To assemble the burgers: spread a small amount of the preserves on the bottom of each bun, place one patty on each, and coat the first patty with the rest of the preserves. Place the second patty, then the lettuce, then the tomato, then the top bun. Serve and enjoy!.
I used a particularly good aged balsamic, and. Man cringed when I said I was making turkey-feta burgers. added some paprika, lemon juice, used egg whites, basil and additional garlic.absolutely FANTASTIC! My husband seriously couldn't stop eating or talking about how good they were! Thanks for the recipe -- will make this again and again! Toss the Brussels sprouts together with the olive oil, balsamic vinegar, garlic powder, salt and pepper in a large bowl; then spread them out in an Remove from the oven and sprinkle the Brussels sprouts with the pine nuts and Parmesan.