Tomato and Zucchini Appetizer. Appetizer of Zucchini, eggplant and tomato. Feeding an appetizer of eggplant with zucchini, garlic and tomatoes to the table especially festive, you can decorate it with dill, parsley and other greens. Zucchini Tomato Casserole - Layers of baked Zucchini and Tomatoes coated with a creamy, cheesy blend and loaded with flavor!
Tomato and Zucchini Appetizer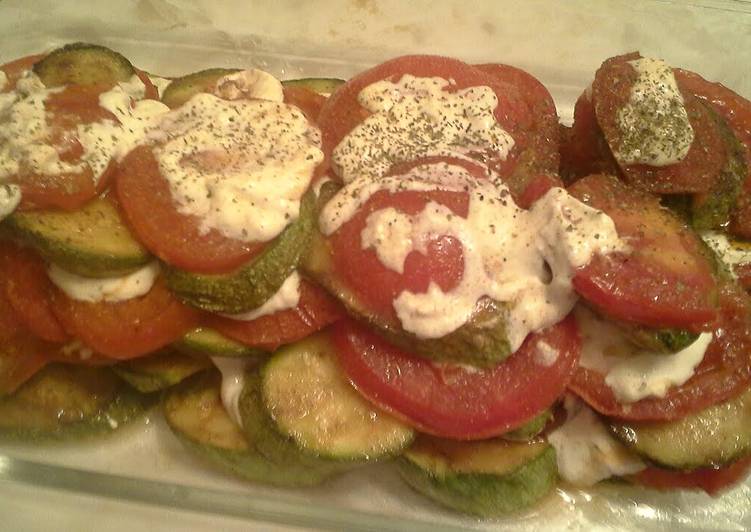 If you've tried the zucchini crisps with garlic aioli you already know why I'm so excited about this sauce! It makes for a quick appetizer or even side dish if using larger tomato slices. The ingredients can easily be doubled or even tripled for a larger crowd. You can have Tomato and Zucchini Appetizer using 8 ingredients and 8 steps. Here is how you achieve that.
Ingredients of Tomato and Zucchini Appetizer
You need 6 of tomatos.
You need 6 of zucchini.
Prepare 3 tbsp of mayonnaise.
You need 3 tbsp of sour cream.
It's 4 clove of garlic.
You need of salt.
It's of black pepper.
You need of oregano.
Simply Roasted Zucchini & Tomatoes (Gluten Free, Vegan & Paleo). Quick, easy and delicious, puff pastry appetizers are the best way to start a party. Get the recipes for these vegetable tarts and more at Chatelaine.com. Brush oil lightly over tomatoes and zucchini.
Tomato and Zucchini Appetizer instructions
Cut tomatos and zucchini into circles.
Add salt and black pepper to zucchini.
Fry zucchini on each side for 3-5 min.
Remove fryed zuccini and place on a paper towel (to remove extra oil).
Fry tomatos on each side for less than 2 min.
Place zuccini and tomatoes like a peramid into baking pan.
Mix sour cream, mayo, minced garlic and oregano -- add in between layers.
Preheat oven. Bake 350° for 15 min.
BAKE in top and bottom thirds of oven. Baked zucchini with tomatoes and cheese. Fresh tomatoes and Zucchini with onion and basil make a perfect light & fresh summer (or anytime) side dish! The seasonal side of Zucchini & Tomatoes they have at the Bone Fish Grill is one of my favorites! I love the combination of fresh tomatoes, zucchini and tomatoes, with a little bit of Italian.